Carpet Dyeing Maryland- Bleach Spot Repair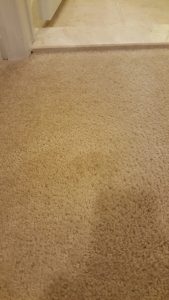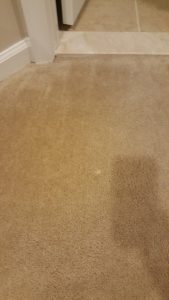 A Clarksburg MD Client contacted our office for a bleach spot (bleach stain) repair. Bleach spots are made when beach or another cleanser that contains bleach is spilled on the carpet. Bleach removes some of the color in the carpet, leaving behind an off-white, sometimes orange looking spot. A stain adds color to the carpet, but a bleach spot removes color from the carpet. With carpet dyeing, we need to add back the colors that the bleach removed. Not all carpet is able to be dyed. We can dye nylon and wool carpet, however polyester and olefin carpet is unable to be dyed. Our carpet dyes are non-toxic, liquid, permanent, and colorfast; meaning they will not rub off, won't leave behind any residue, and the dye won't transfer to any other fabric and clothing. Bleach spot repairs are very common among homeowners. Our clients usually have tried to remove a stain and their cleanser unknowingly had bleach in it. Other instances are a cleaning company may spill bleach on your carpet while cleaning your home. Regardless of the reason for your bleach spot, we can repair it. This is a highly skilled trade and all of our technicians are certified in carpet dyeing and carpet repair. Contact our office today to schedule an appointment for carpet dyeing, or if you have any questions about carpet dyeing. 240-257-6244 or visit our website www.MarylandCarpetRepair.com.
We service MD, DC, and N. VA.
We provide:
Carpet Dyeing
ColorClean Carpet Cleaning
Color Restoration
Carpet Repair