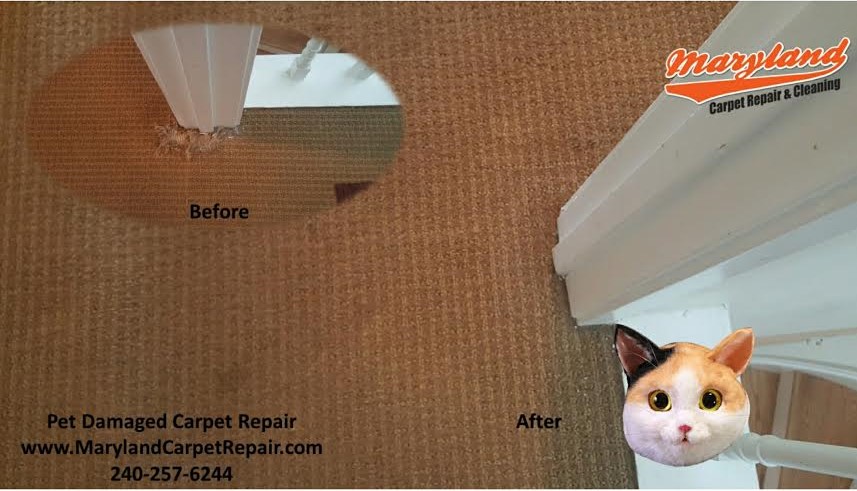 Looking for carpet repair Potomac MD? This homeowner in Potomac MD had some pet damaged carpet from his cat. Cats love to flex their claws in the carpet. Flexing is part of their instinctive nature. They aren't trying to be bad. Their paws contain scent glands, and this behavior is a cat's way of marking their territory in your home. Also, the texture of the carpet is appealing to them; flexing their claws in it helps remove dead skin from their paws and claws. If this flexing damages your carpet, no need to worry, it is repairable. Don't replace your carpet over pet damage such as this when carpet repair is much more affordable. Our certified technicians love pets and are skilled in pet damaged carpet repair.
If your carpet looks like this before picture, contact us and our technicians can have your carpet looking great again. 240-257-6244.
 You can now view our prices and schedule your appointment from the comfort of your home. Visit www.MarylandCarpetRepair.com and click on the 'Book Now' button towards the top of the page!
We service the Maryland, DC, and N Virginia areas.
We specialize in:
Carpet Stretching
Professional Carpet Cleaning
Berber Carpet Repair
Carpet Reinstallation
Upholstery Cleaning
Carpet Installation/Re-installation
Water Damage Restoration