Bowie MD- Pet Damage Carpet Repair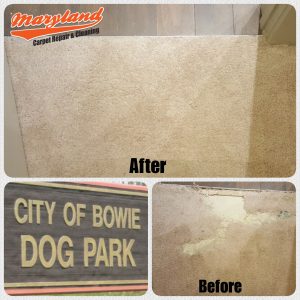 Has your pet tried to dig their way out of room? Do you have ripped or  shredded carpet? These are common frustrations pet owners contact us about. We are here to tell you, don't stress, we can fix your pets' carpet mess. Our skilled technicians will remove the damaged section of carpet. Then a carpet transplant, either from spare carpet you have or we can use carpet from the bottom of a closet. We will seam and seal the donor piece. We stock common color plush carpet remnants, that we will insert back into the section of the closet. This is an affordable option for clients who want to get some more life out of their carpet and who do not want to replace the entire room of carpet.
This client in Bowie MD had pet damage carpet repair right at a transition area. View our before and after pictures above and in our recent jobs tabs on our website www.MarylandCarpetRepair.com. Contact out office now at 240-257-6244 or visit our website to schedule your appointment now from  the comfort of your home. Just click the 'Book Now' button on the top of our homepage.
Service we provide:
Carpet Repair (Pet Damage, Burns, Stains)
Berber Carpet Repair (Snags and Runs)
Carpet Stretching and Re-Stretching
Carpet to Tile Transitions
Professional Carpet Cleaning
Water Restoration
Carpet Re-installation (after flooding)