Carpet Stain Repair Bethesda MD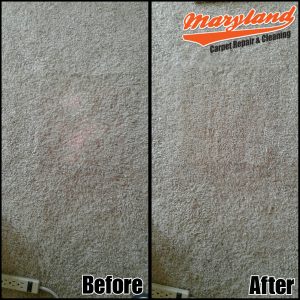 Carpet stains are a common household occurrence if you have pets and kids. Some stains are easily removed, while others leave behind permanently stained carpet. Sometimes the cleansers and products you purchase to remove the stains, can bleach your carpet. That is what happened to this client from Bethesda MD. Fortunately we repair carpet with expert precision and the eye soar of the damaged area eliminated. Our technicians are skilled, IICRC certified and provide quality carpet repairs. Visit www.MarylandCarpetRepair.com to schedule your appointment. If you aren't sure if your carpet can be repaired, please contact our office at 240-257-6244; there are carpet specialists standing by to answer your questions and provide a free phone estimate. We look forward to serving you.
We service the Maryland, DC, and Northern Virginia areas.
Services we provide:
Carpet Repair (Stains, Burns, Pet Damage)
Carpet Stretching (Bumps, Wrinkles, Ripples, etc)
Berber Carpet Repair (Runs, Snags)
Carpet Transition/ Seam Repair
Professional Carpet Cleaning
and more!