Pet Damage Carpet Repair Olney MD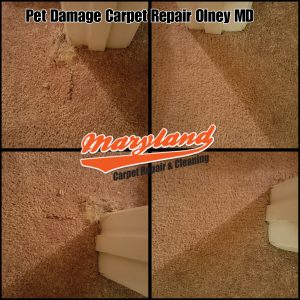 Has you pet gotten frisky with your carpet?  Do you live with damaged, torn carpet? Pet Damage Carpet Repair is a common call we receive from clients and is something that can be easily repaired and is an affordable option instead of complete carpet replacement. When scheduling a carpet repair appointment, we will ask if there is spare carpet we can use for the repair. If there is no spare carpet, we can take some carpet from the back corner of a closet. We stock beige, tan, and light brown carpet remnants that we can choose the most similar to seam back into your closet for you. We trim out the damaged area of carpet, insert the donor piece of carpet and seam and seal the edges. Carpet repairs don't take very long and are done with expert precision and the eye soar of damaged carpet will be eliminated.
Appointments can be scheduled online by going to our website www.MarylandCarpetRepair.com and clicking on the 'Book Now' button on the top of the page. Or you can call our office at 240-257-6244. We service the MD, DC, and N VA areas.
Providing:
Carpet Repair (Pet Damage, Burns, Stains)
Carpet Stretching (Bumps, Ripples, Loose Carpet)
Berber Carpet Repair (Snags, Runs)
Professional Carpet Cleaning
Carpet Seams/ Transitions