Carpet Stretching- Carpet Repair Upper Marlboro MD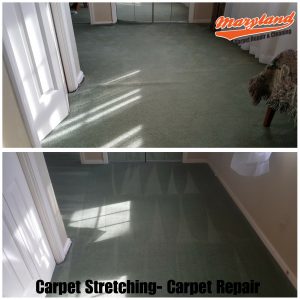 Maryland Carpet Repair and Cleaning was out in Upper Marlboro MD today for carpet stretching services. Our client utilized our book online option and scheduled her appointment from the comfort of her home. www.MarylandCarpetRepair.fittlebug.com. Our client was sick of looking at the these unsightly wrinkles in her carpet and wanted to get her home ready for the holidays. Our certified technicians arrived at her home; most of her furniture was removed from the rooms already, and we were able to get started with power stretching her carpet. The power stretcher tool is able to stretch the carpet from wall to wall. This tool is used to get the carpet completely flat and drum tight, removing all wrinkles and buckles in the carpet. Stretching comes with a 5 yr guarantee on the service. This client had us provide deep clean carpet cleaning services as well. We recommend carpet cleaning after carpet stretching services to remove the soil and traffic lanes that had developed over time on the carpet wrinkles.
Maryland Carpet Repair and Cleaning services the Maryland areas: Montgomery County, Anne Arundel County, Prince Georges County, and Howard County; as well as DC, and Northern Virginia areas.
We provide: Carpet Repair, Carpet Stretching, Carpet Dyeing, and Carpet Cleaning Services.
240-257-6244 www.MarylandCarpetRepair.com