Berber Carpet Repair- Pet Damage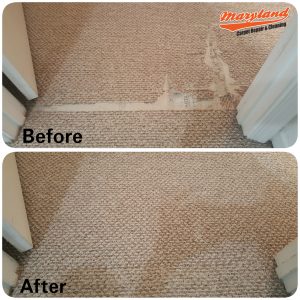 Have you left your pet in a room and they damaged your carpet? Or maybe, your pet was being a little frisky and dug a hole in your carpet? Pet damaged carpet is the ultimate eye soar and a huge headache, but it can be repaired. Pet damaged carpet is a common repair for our skilled technicians. We can repair the area, replace the damaged padding, and insert a permanent section of newer carpet.  In the above picture our client has berber carpet. Pets often get their nails snagged in the berber carpet loops. They see this snag of carpet as something to play with and the next thing you know, the entire doorway of carpet is damaged. Our client was very grateful we repaired this damage!
If you live in Maryland, DC, or Virginia and are in need of pet damage carpet repair, contact our office at 240-257-6244.
Did you know you can view pricing and schedule your appointment online? Visit www.MarylandCarpetRepair.com and click on the red "Book Online Now" button at top of the Home Page.
We provide:
Carpet Repair (Pet Damage, Stains, Burns, Seams)
Berber Carpet Repair (Snags, Runs)
Carpet Stretching
Professional Carpet Cleaning
Carpet Re-installation (after flooding)