Carpet Repair in Bowie MD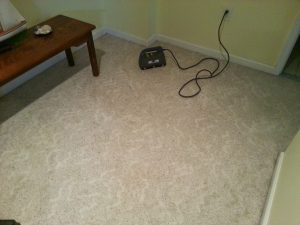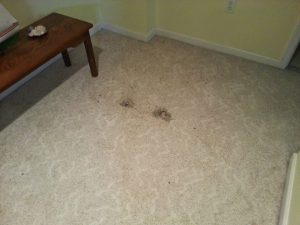 Do you have an ugly hole in your carpet? Has your carpet been torn and shredded? If you answered yes, to these questions Maryland Carpet Repair and Cleaning can help. We specialize in carpet repair: pet damage repair, burn repair, berber repair, bleach spot repair, seam repair and more! Carpet repair is an affordable alternative to replacing your carpet.
This client contacted us for carpet repair in Bowie MD. He did not have any spare carpet for us to complete the repair with. So, we were able to use carpet from the back corner of one of his closets. The closet carpet is used as a donor piece for the damaged area; then we replace the removed portion of the closet with a similar remnant piece we stock.
A common question we receive, is 'Will the repair be visible?'. The answer is maybe. The visibility of the repairs are dependent on the condition of your carpet. If your carpet has been maintained and had regular cleanings, the repairs are usually less noticeable. Carpet that has a lot of traffic lanes and wear may have a repair be more noticeable. Also, when using spare carpet that has never been, walked on, lived on, and inserting this brand new section, you may notice a slight color difference. This color difference will blend in over time, as you begin living, walking, on your new repair. You can view before and after of our recent work,
If you are in need of Carpet Repair in Bowie MD or the surround areas, contact our office at 240-257-6244.
Did you know you can view pricing and schedule your appointment online? Visit www.MarylandCarpetRepair.com and click on the green "Book Online" button at top of the Home Page.