Maryland Carpet Repair in Laurel MD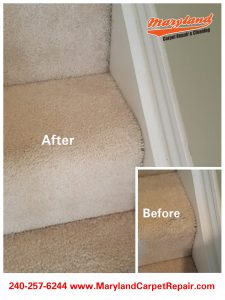 Carpet repair was needed in this Laurel MD home. Our client's cat dug a hole in their stairs. Every time someone goes up and down these stairs, the eye soar of this damaged area is glaring. But this pet damaged carpet can be repaired. Carpet Repair is our primary service we offer. Our technicians have been trained and certified in carpet repair.
Are you in Laurel MD or the surrounding areas and your pet has caused moderate to severe carpet damage in your home? Before you throw your hands up and go carpet shopping, contact Maryland Carpet Repair and Cleaning. We will give you a free telephone estimate. Simply pick up the phone and call 240-257-6244.
Did you know you can view pricing and schedule your appointment online? Visit www.MarylandCarpetRepair.com and click on the green "Book Online" button at top of the Home Page.
We service Maryland, DC, and Northern Virginia.