Maryland Carpet Repair- Garrett Park- Kensington- Bethesda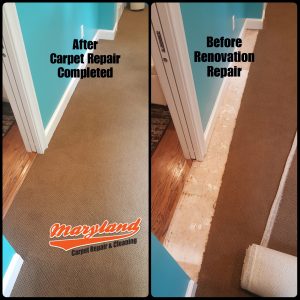 A client in Garrett Park MD was in need of our carpet repair services. She renovated an area and needed a new permanent section of carpet inserted into this now bare area. From the picture above, you can see the size of this repair. Our client was elated at the results of the carpet repair our certified techs completed. The repair is barely noticeable! Happy clients = a job well done by Maryland Carpet Repair & Cleaning.
If you are renovating your home, and are in need of carpet repair services, contact our office now at 240-257-6244.
Did you know you can view pricing and schedule your appointment online? Visit www.MarylandCarpetRepair.com and click on the green "Book Online" button at top of the Home Page.
We service Montgomery County, Howard County, Prince George's County, and Anne Arundel County, Maryland