Carpet Stretching Clarksburg MD- Germantown MD- Gaithersburg MD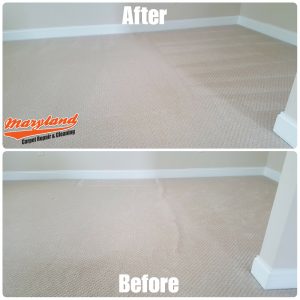 Does your carpet buckle in certain places? Do carpet bumps and ripples fill your hallways and rooms? You are not alone. Carpet stretching is our most common service. Maryland Carpet Repair and Cleaning can stretch your carpet to eliminate these unsightly bumps and buckles. We pull up the carpet, then use a power stretcher to stretch the carpet from wall to wall. The entire room will be stretched as the power stretcher extends from  a north wall to a south wall; the tool is then turned and the carpet is stretched from east to west as well. This power stretching process is used in accordance with installation guidelines.  We trim off the excess carpet then refasten the carpet to the tack strips, ensuring the carpet will be completely flat and drum tight. Stretching comes with 5 yr wrinkle free guarantee. A lot of companies may offer use a knee kicker, which will only resolve the issue temporarily, but because we use the power stretcher we are able to stand behind our work.
If you are interested in Carpet Stretching-  Clarksburg MD- Germantown MD- Gaithersburg MD and the surrounding areas, contact our office today at 240-257-6244.
Did you know you can view pricing and schedule your appointment online? Visit 
www.MarylandCarpetRepair.com
 and click on the green "Book Online" button at top of the Home Page.