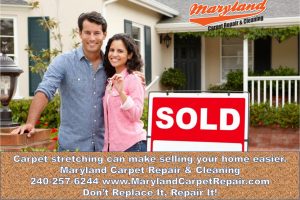 Maryland- Montgomery County MD- Carpet Stretching
Our team of Certified Carpet Repair technicians can remove unsightly ripples and buckles, stains & burns, repair pet damaged carpet, restretch carpet, as well as professional carpet cleaning.
When selling your home, the condition of your carpet can have an impact on home buyers. Carpet bumps and buckles are often noticed during house showing. Real estate agents frequently recommend home owners have carpet stretching and professional carpet cleaning completed in an effort to help sell their home. Carpet stretching uses a power stretcher to stretch your carpet from wall to wall. It comes with a 5 yr wrinkle free guarantee on the service.
Our carpet cleaning provides a deep thorough cleaning down the bottom of the carpet fibers and also extracts most of the water to reduce dry time. Cleaning includes deodorization and it also sanitizes the carpet, eliminating dust mites, bacteria, etc. Cleaning also addresses common household stains like food, stains, traffic lanes. We also specialize in pet urine and odor removal services.
We service residential clients from as far north as Clarksburg MD, Gaithersburg MD, Rockville MD, Silver Spring MD, Annapolis MD, Bowie MD, Alexandria VA and all cities in between.
Don't Replace your Carpet when you can have it Repaired for a fraction of the cost.
Professional carpet stretching, repair and cleaning services at its best.
If you selling your home and are in need of carpet stretching and cleaning visit www.MarylandCarpetRepair.com.
Click here to schedule your appointment or just give us a call at 240-257-6244.