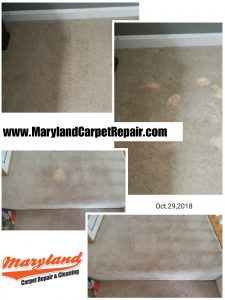 Don't Replace It, Repair It!
Has your carpet got you down? Maybe your carpet has stains from the kids or pets? Maybe you have tried to spot clean your carpet, and the solution you used bleached your carpet? Or you pet may have decided to get a few holes in the carpet? Did your pet lamp or hookah coal burn your carpet? No matter the damage to your carpet our certified technicians are experts at fixing your carpet. Ideally, spare carpet is best to repair your damaged carpet. However, if no spare carpet is available, we can take carpet from the back of your closet to use for the repair. We stock a few common colored plush carpet remnants that we can replace the closet area with. Carpet repair is an affordable option when you are not ready to replace your existing carpet. Let Maryland Carpet Repair & Cleaning eliminate the carpet eyesore for you today!
240-257-6244 www.MarylandCarpetRepair.com
Click Here to Schedule Your Carpet Repair Appointment
Proudly serving Montgomery, Howard, Prince George, and Anne Arundel Counties.