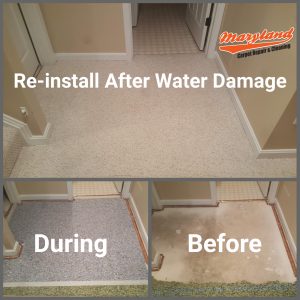 Floods are every homeowner or renter's nightmare. Water can wreak havoc on your carpet. It is critical to get the carpet dry as fast as possible. The first step is to pull up your wet carpet and remove all of the wet carpet padding. The padding acts like a sponge, soaking up most of the water. Water damage needs to be addressed within 24-48 hours of the flooding. After 48 hours mold and mildew can begin to develop, which can be dangerous to your health. Next, you will need air movers/ fans to get air circulating in the room, and also a dehumidifier.  The fans and dehumidifier need to run for 3-5 days.
Once the carpet is completely dry, you now need a professional to come re-install your carpet for you. Our certified carpet experts will replace your carpet padding, soiled tack strips, repair any damaged carpet seams, and then restretch and refasten the carpet back into place.
The photos shown above are from a recent reinstall in Maryland.
If you need your carpet reinstalled after flooding, contact our office to get a free phone estimate. www.MarylandCarpetRepair.com
We service Montgomery, Prince Georges, Howard, and Anne Arundel counties.