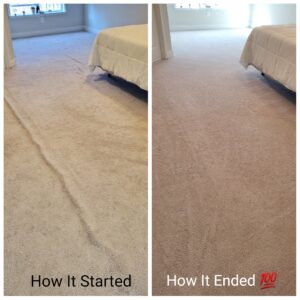 Carpet Stretching in Upper Marlboro MD
This carpet stretching job was done for a very nice family in Upper Marlboro, MD.
Carpet can develop bumps, lumps, and ripples over time due to many reasons. Regardless of how these bumps form, this issue can quickly and easily be repaired by our professional carpet stretching service.
Generally all furniture should be removed from the room prior to arrival however we can work around one piece of furniture. At this job in Upper Marlboro, MD, our client was able to remove mostly everything from her room. When we arrive, the carpet is wavy, bumpy, and can potentially be a tripping hazard.
You can see How It Started…..and How It Ended!
#MarylandCarpetRepair #SupportSmallBusiness #PrinceGeorgesProud